Installing Kapacitor Enterprise
This is archived documentation for InfluxData product versions that are no longer maintained. For newer documentation, see the latest InfluxData documentation.
Overview
Kapacitor Enterprise installations are very similar to open source Kapacitor but require a an Enterprise license key and include extra configuration options.
The basic installation steps are:
Download Kapacitor Enterprise
Configure Kapacitor Enterprise
Start Kapacitor Enterprise
Kapacitor Enterprise has only a single type of member, meaning every member of a cluster is the same and performs the same functions.
Step 1: Download Kapacitor Enterprise
Sign in to the InfluxPortal to view your Enterprise license key and access the download links.
Click on the download icon in your dashboard and agree to the Software Software License Subscription Agreement to view package download links.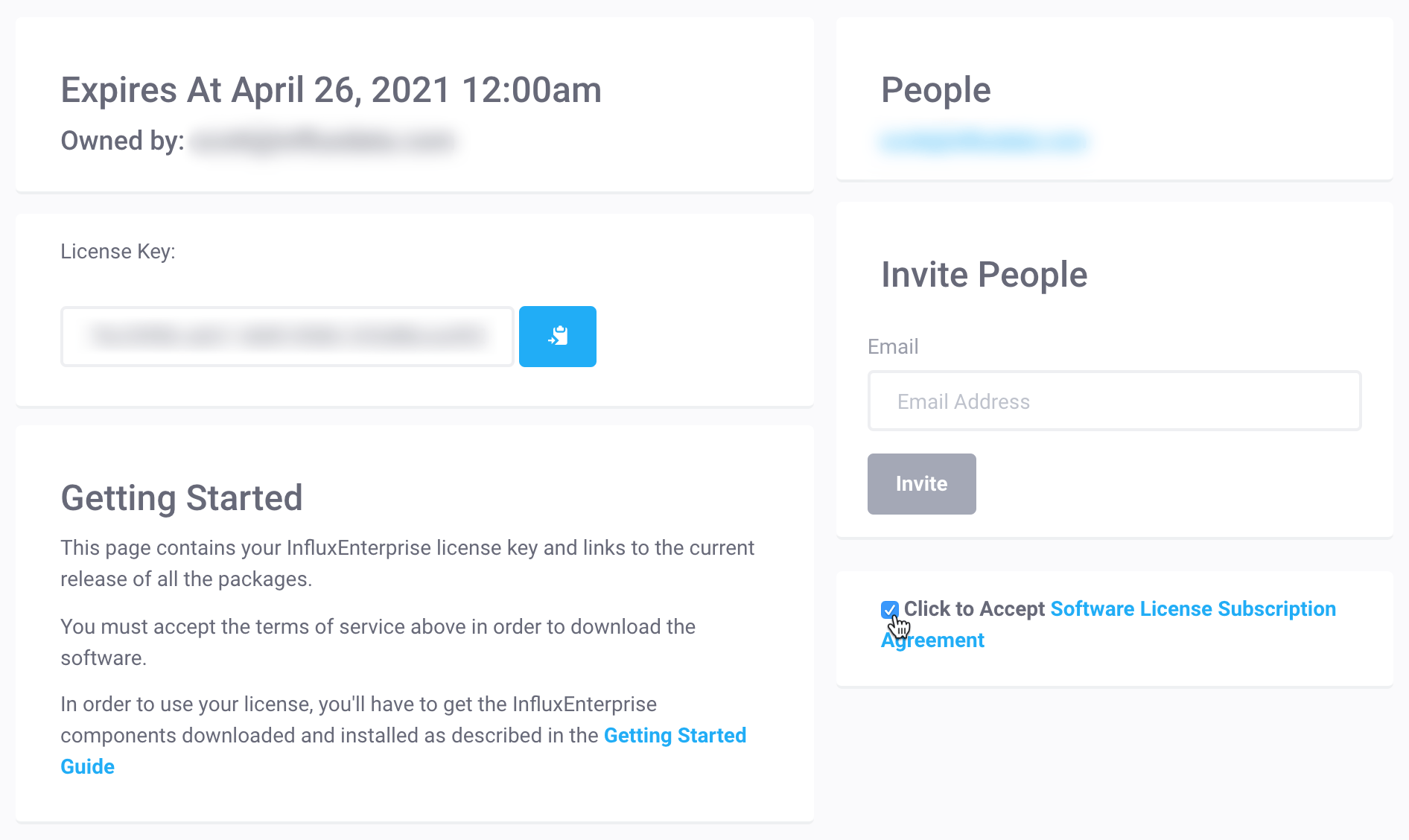 Download the package appropriate for your operating system and un-package the contents. Add the binaries included in <package_dir>/usr/bin/ to your system's $PATH.
Step 2: Configure Kapacitor Enterprise
Configuring Kapacitor Enterprise is similar to the open source Kapacitor, with a few additional sections in the kapacitor.conf. View the Kapacitor Enterprise Configuration documentation for more details.
To print out an example Kapacitor Enterprise configuration, run:
Use the example configuration to create your own custom kapacitor.conf. Update the essential information to suit your specific installation.
Provide your enterprise license key
In your kapacitor.conf provide either your full enterprise license key in the license-key configuration or the path to a file containing your license key using the license-path configuration. These configurations are mutually exclusive and should not be used together.
[

enterprise

]


  

# ...


  

license

-

key

 

=

 

"xxxxxxxx-xxxx-xxxx-xxxxxxxxxxxx"





# OR





[

enterprise

]


  

# ...


  

license

-

path

 

=

 

"/path/to/kapacitor-enterpise-license.txt"
If you don't want to store your license key in your kapacitor.conf, you can also provide your license key using the KAPACITOR_LICENSE_KEY or KAPACITOR_LICENSE_PATH environment variables.
Other enterprise-specific configuration options
Kapacitor enterprise includes additional configuration options that are covered in the Kapacitor Enterprise Configuration documentation. There are also options related to clustering and alerts that are covered in detail in the Kapacitor clustering documentation.
Save your kapacitor.conf
Save your customized kapacitor.conf in the filesystem of the server on which it will be used. The location of your kapacitor.conf is important when starting Kapacitor.
Step 3: Start the Kapacitor daemon
With Kapacitor Enterprise configured, start the Kapacitor daemon using the kapacitord binary.
Specify the location of your kapacitor.conf
You have a few options for telling Kapacitor where your kapacitor.conf is located:
When staring Kapacitor, pass the path to the configuration file with kapacitord's -config option.

kapacitord -config /path/to/kapacitor.conf

Define the path to the kapacitor.conf using the KAPACITOR_CONFIG_PATH environment variable.

Place your kapacitor.conf at one of the expected locations:

~/.kapacitor/
/etc/kapacitor/